📍 2023 Corydon Avenue BIZ Concert Series
🗓️ Starting June 17, Fridays and Saturdays, 7 PM – 10 PM
🎶 @ Different intersections along Corydon Avenue
Are you ready to rock? Join us for the 2023 Corydon Avenue BIZ Concert Series, featuring some of the best local bands and artists in Winnipeg. Every Friday and Saturday night from June to August, you can enjoy free live music at various venues along Corydon Avenue. Whether you're into rock, pop, jazz, blues, or country, there's something for everyone in this diverse lineup. Plus, you can explore the vibrant shops, restaurants, and bars that make Corydon Avenue one of the most popular destinations in the city. Don't miss this chance to experience the sounds and sights of summer at the 2023 Corydon Avenue BIZ Concert Series. For more information and schedule updates, visit www.corydonbiz.com.
Check the schedule below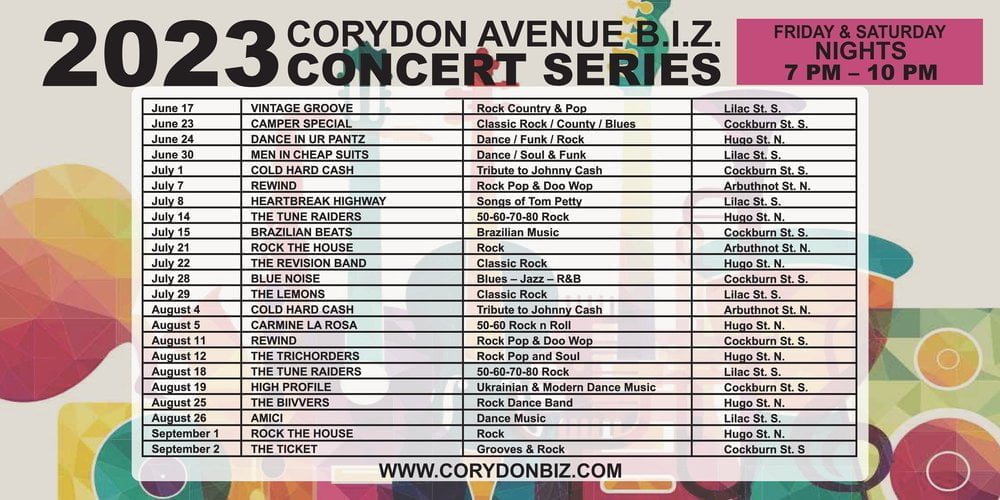 Upcoming Events
Calling all parents! Join us for a free kids' clothing and accessories swap at Immanuel Christian School in Winnipeg on December 2nd from 10am to 1pm. Bring in your gently used clothing, shoes, and accessories that your kids have outgrown and swap them for new ones.
Find out more »